Scandinave Spa – Whistler, British Columbia
I headed to the
Scandinave Spa
in Whistler, British Columbia and being of Icelandic descent this is a place that speaks to my viking soul.
This particular day the spa was a winter wonderland, the snow falling like CRAZY so much so that my car barely made it up the mountain. However, I was not turning around for I'd visited Scandinave Spa last summer and had been dreaming of my return ever since.
The snow was perfect as it was the exact opposite of the flowery mountain view I had experienced the first time. The Scandinave Spa is the perfect spot for Stags/Stagettes and dates. I know of many guys who wouldn't be caught dead in a spa, but this is the place to take your man – I promise. Nestled into the side of a mountain with rustic wood decor and the smell of the pine trees, it doesn't get more manly than this.
Based on the Finnish sauna traditions, the treatment involves heating up via hot baths or saunas and then plunge into the cold baths. The hot/cold cycles rejuvenates while purging the body of toxins. Speaking of toxins, a hung over wedding party will surely be ready for round two after a day spent here.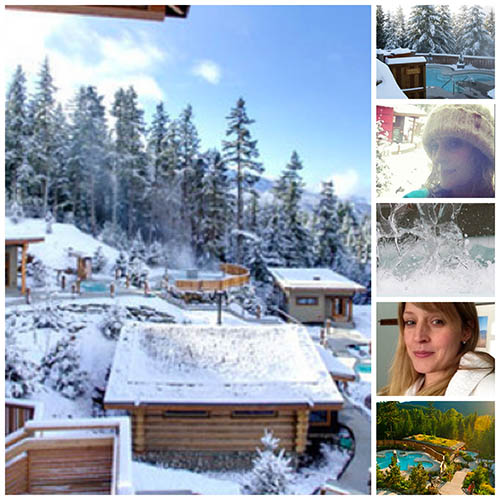 Upon arrival I had a 90 minute Swedish massage, which means I was basically in heaven. Scandinave also offers deep tissue and hot stone massages. Then I enjoyed a quick snack at the coffee bar and hit the baths. That first cold plunge was AMAZING AHHH and then I headed to on of the many relaxation rooms to rest and recover…..in silence. Yes hmm, that part is hard for me, talking is something I do well – well I do a lot. Although, perhaps it is the silence that subconsciously fueled my desire to return to Scandinave.  At this spa I am forced to stop, sit and just be. Stillness is something I struggle with and I am certain I'm not alone in that. The silence policy alone is so therapeutic, now add the numerous spa services and the healing of the baths – magic.
 A trip to Scandinave Spa feels like a you have journeyed to a far off destination and it's only just over an hour away from downtown Vancouver. The view (as well as cold bath) leaves you truly breathless. I did get into trouble 3 times for talking, perhaps not trouble but I received some positive encouragement to stay silent and truly experience the environment.
After the treatment I experienced the best kind of exhaustion, I was completely relaxed and slept like a baby.